The Lotter Payment Options – Deposits and Withdrawals Methods
Sometimes people don't know how to deposit or withdraw correctly. We offer our users a great variety of payment options so that everyone can deposit comfortably. The variety of ways to deposit and withdraw is really outstanding, so let's look through all of them and you will choose the most suitable!
The Lotter Deposits and Withdrawal Methods
The amount of The Lotter payment options is really big. It can be a usual credit card, international payment system, and online banking. Everyone can choose the most comfortable way to deposit and withdraw. Let's find out what are they!
Deposit
There are actually two ways to pay for a ticket. The first one is to deposit money in your account before you enter the selected lottery. And the second one is to purchase the ticket directly.
You will also need to choose a suitable payment method while completing your registration and making your first transaction. Don't worry, your transaction will be current, free of charge, and completely safe! And now let's check what methods you can use to buy your lottery ticket!
| Method | Info |
| --- | --- |
| Visa | Visa credit cards are one of the options you can use to deposit INR. It is the usual way to pay for your favorite lottery ticket. It is safe and fast! |
| Net Banking | Net banking is a perfect way to deposit INR. It is entirely safe and fast. You can use it directly from home. Everything you need is to have an Internet connection! |
| RuPay | RuPay is the first payment network in India. It is acceptable for international transactions, ATMs, and e-commerce websites. If you want to buy a lottery ticket via RuPay it will be perfect. Transactions are completely safe and furious! |
Withdrawal methods
Withdrawal options are quite similar to the deposit ones. You can withdraw your money with the same method you have used to deposit. Also take into consideration that you can not withdraw in excess of what you deposited with your payment method, according to the anti-money laundering policy. Here are some withdrawal methods.
| Method | Info |
| --- | --- |
| Skrill | Skrill is an e-wallet that is used worldwide. You can also create a free account if you want. It is a very comfortable way to withdraw. It also might be instant if some conditions are fulfilled. |
| Net Banking | Net Banking is a very comfortable way to withdraw for users from India. Withdrawals are also can be made only in INR. |
| RuPay | Rupay is one of the most suitable withdrawals ways for customers in India. All transactions can be made only in INR. |
How to Make a Deposit at The Lotter?
Deposit is actually a very simple process. It will take you only 5 minutes to make it. The deposit process consists of only a few steps. And now let's take a look at how you can make it step by step.
1
At the first step you will need to register or log in to your the Lotter account.
2
Then you will need to visit "Payment Details" and add the preferable method.
3
At the third step you will need to click on the Deposit button.
4
Now you just need to choose the amount of money you want to deposit. You can also be redirected to the chosen method's website to verify your transaction.
That is everything you need to make your first deposit! All these steps are simple and will make your deposit process comfortable and fast. If you use some of the payment methods, like RuPay or Net Banking, you will also receive a special email notification about your transaction!
What is the Maximum and Minimum Deposit at The Lotter?
Deposit ways are various and simple, but there is also a minimum amount of money you need to deposit. It is usually ₹820. If you want, you can also enable a limit option. Due to our Responsible Gaming policy, in the Deposit Limit section, you can set a deposit limit for a time period. It can be Monthly, Weekly, or Daily. You can also increase and decrease this limit, but take into account that if you want to increase it, it will be done only after a "cooling-off" period!
How to Withdraw at The Lotter?
Withdraw process is very easy. You will need to make only 5 steps to withdraw your funds. Here is the step-by-step instruction.
1
Sign in to your previously made account.
2
Visit the "My Account" section and click "Withdraw"
3
From the list of available withdrawal methods select the preferable one.
4
Choose the amount of money you want to withdraw and click the button to complete the operation
5
You will also receive a special email about your transaction.
These are the steps you need to complete to withdraw your funds. Everything is simple and will take you only a few minutes to do.
How Long Does The Lotter withdrawal take?
Depending on what withdrawal method you have chosen it will take some time to receive your fund. If it is Skrill it will take from one to three days to receive your money, but it can also be instant if your withdrawal is lesser than the total of charges of your Skrill account, or when you bought your lottery ticket since the last deposit. If you use RuPay or Net Banking, the number of days to wait will vary.
What are the minimum and maximum withdrawals for The Lotter?
Take into account, that every withdrawal method also has its own maximum and minimum. If you use Skrill as the withdrawal method it will be ₹82 as the minimum and ₹164.500 as the maximum. Maximums and minimums for Net Banking and RuPay are similar. They will be ₹100 as the minimum and ₹70.000 as the maximum amount of money you can withdraw!
Customer Support and Services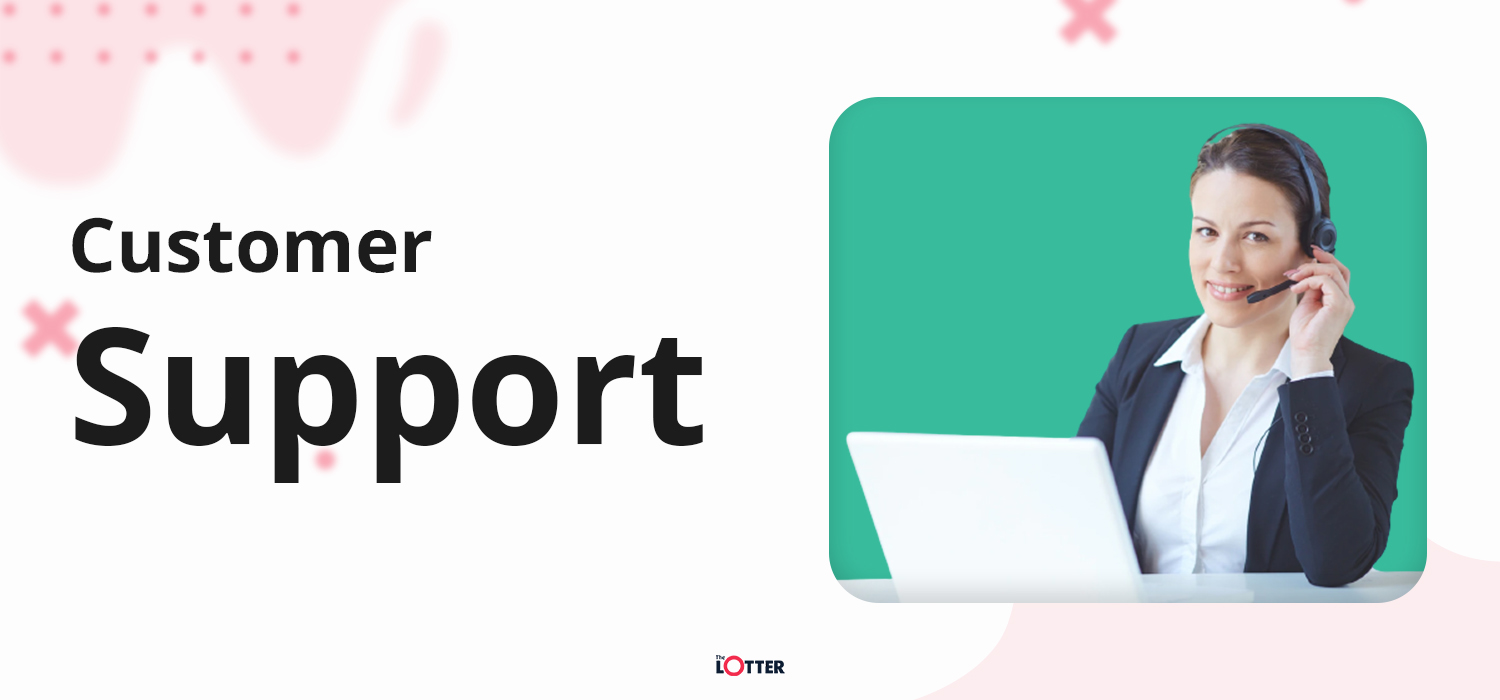 Our professional team of Customer Service will help you to solve your problems and answer your questions about The Lotter. If you want to contact the Support Service you can have live chat assistance in a number of languages! You can also send an email to our Support Team and they will answer you within 24 hours. If your questions were not answered you can also send a special request and our team will contact you by phone!
If you want to contact our Customer Support and Services, you need to visit the "Support" section and click the "Contact Us" button. You will receive all the necessary information about how to write a message to us!
FAQ
Here are the answers to some frequently asked questions!
How can I change the payment method?

If you want to change your previously selected payment method you should log in to your account on the official website, go to the "Payment Details" section and choose another method in the list. You can also delete a payment method, to do it you need to click the thrash button near the payment method!

Why was my transaction refused?

Your payment or deposit may be refused according to the credit limit, suspicion of theft, or your account can be frozen. Some payment companies can change their transaction approvals. To solve this problem you need to change the payment method or contact our Support Service.

Why was my withdrawal refused?

The most frequent reasons are that you have tried to withdraw to a different payment option, that you used to deposit, or you have wanted to withdraw more money than allowed. If your withdrawal was denied, you will receive a message to your email from our Support Service with the explanation.

Are there any fees or commissions for withdrawals?

No, we don't take any additional fees from your account. But take into consideration, that local fees and commissions may apply.

Why I can't refund my money after buying the ticket?

If you confirm your purchase, your order will be immediately sent to one of The Lotter's offices. Our agents at the local offices work around the clock to provide a first-rate service, they upload tickets constantly. Once your order went to the office, that purchase is in process and we can't to cancel it.